Along with our studio photography we also offer commercial photography, and a range of further digital services. Below is a brief overview of each of these services, if you would like any additional information about any of these services please don't hesitate to Contact Us.
With the huge increase in social media, photography is used more and more everyday to help promote businesses. High quality, professionally shot photographs can help your business stand out in the crowd and make people take notice of your business and the services you offer.
Whatever your business needs Shot @: Photography offers a great commercial service to help promote and build you business. With experience working with local councils, stores, hotels and radio stations, Shot @: Photography offers a professional service to all of or valued commercial clients.
Pricing:
£100 for upto 1 hours coverage (within 30 mile radius of Barrow-in-Furness)
£50 per additional hour of coverage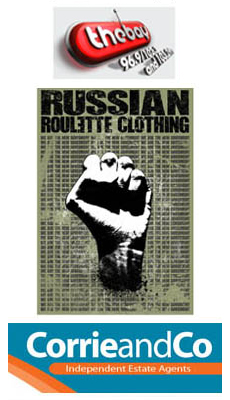 Creases, cracks, fading, or staining, whatever the issue let Shot @: Photography repair and renew your damaged prints with our photo restoration service.
All images are scanned and then meticulously restored by our in-house experts. Our pricing structure is based around the level of restoration required, with 3 levels of repair.
Level 1 - Minor restoration required, small scratches and damage, minor fading
£10 per image
Level 2 - Moderate restoration required, moderate damage in some areas, staining
£15 per image
Level 3 - Heavy restoration required, significant damage to areas of the image, or lots of moderate damage throughout the image.
£25 per image
All original photographs are returned along with a disc with a digital copy of the final restored photo. This disc can then be used to view, print or share the photo however you wish.
Approx 7 day turnaround time.
mouse over for before / after
Old slides and prints are easily damaged, bulky to store, and difficult to sort and view. Shot @: Photography can convert your old slides and prints into digital files with our digital conversion services. Gain all of the benefits of digital photography by converting your prints and slides into high resolution digital files.
50p per slide or print with a minimum charge of £5
Approx 7 day turnaround time.
Back up those old VHS recordings and treasured memories with out video to DVD transfer service. Our pricing is based around the duration of the footage:
£15 for upto 1 hour of footage
£10 for each additional hour of footage
£5 for each extra copy of the DVD
Approx 7 day turnaround time.
Shot @: Photography, 65 Scott Street, Barrow-in-Furness, LA14 1QE | 01229 877477 | shoot_me@shotat.co.uk
Copyright © 2012, Shot @: Photography. Please don't steal our photos; it makes us sad. All rights reserved.